Complimentary Women's Seminar - Entrepreneurship & Mental Health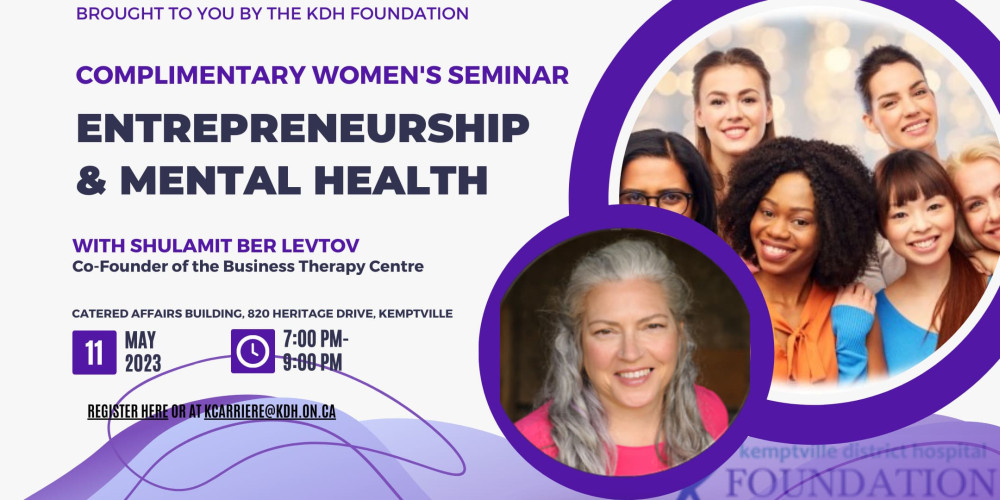 Event Details
Thursday 11 May 2023
Join us for an evening with Shulamit Ber Levtov, as she discusses Entrepreneurship and Mental Health.
Location: Catered Affairs Building, 820 Heritage Drive, Kemptville
Register / Reserve your spot
Online or This email address is being protected from spambots. You need JavaScript enabled to view it.
About Shulamit
Shulamit is the Entrepreneurs' Therapist and co-founder of the Business Therapy Centre. She works with women business owners to care for their mental and emotional wellbeing in an era of relentless stressors.
Shulamit has been an entrepreneur for over 27 years and has more than 22 years of professional experience in women's mental health and personal growth. She also speaks and teaches about the intersection of mental health and entrepreneurship locally, nationally and internationally.
As an award-winning entrepreneur, masters-level, licensed trauma therapist and trauma survivor, with certifications in the Trauma of Money and Nonviolent Communication, Shula brings a unique perspective and approach to supporting women in business.